Just an hour's drive or scenic train ride north-east of Wellington, Wairarapa is as charming and delicious as it is untamed and spectacular, offering wildly different experiences under big open skies.
Wairarapa is at the heart of the Classic New Zealand Wine Trail, a self-drive touring route connecting wine producing regions Marlborough, Wairarapa and Hawke's Bay, and the capital city. Our region encompasses five villages, close together but all utterly unique. Full of hidden gems, the towns of Masterton, Carterton, Greytown, Martinborough and Featherston are each bursting with character, and small enough to be explored on foot or by bike. From boutique retail to award-winning bakeries, wineries, gourmet delights and exceptional tipples; our hands-on growers, makers, and bakers are masters of their craft. Whether family farmers or gutsy newcomers putting twists on tradition, you can always expect quality, not quantity.
Brimming with luxurious experiences and hospitality venues, some of our most popular offerings also hold Qualmark Gold status. These are Pūkaha National Wildlife Centre, Wharekauhau Country Estate, Whitimanuka Retreat, Ranginui Retreat, Green Jersey Explorer Tours, Tranzit Group, Tui Brewery Tours & Tui HQ as well as Hertz Masterton.
The wildness of Wairarapa spans the width of the region, from the rugged east coast beaches to the bush clad Tararua Range. It is the perfect back drop for outdoor adventures - short walks at picturesque Castlepoint or Cape Palliser, to multi-day bike and e-bike tours through Martinborough vineyards, the Remutaka Cycle Trail or the Tora coastline.
Accredited in January 2023 as just the second Dark Sky Reserve in the country, and the only located in the North Island, Wairarapa has one of the most accessible dark skies in the world – all just 70 minutes from Wellington city. A burgeoning astro tourism industry provides visitors unique opportunities to experience this night sky directly alongside those passionate astronomers and space educators who were integral to achieving dark sky recognition. These local guides are continually developing new and sustainable tourism experiences for visitors to enjoy.
Right now, Wairarapa skies can be experienced through local operators Star Safari, offering a 90-minute night sky experience where people learn about astronomy, space, astrophysics, astrobiology, telescopes, Mars, and life in the universe. Star Safari are based at Ponatahi near Carterton. Under The Stars provides nomadic astronomy tours in the Wairarapa, offering private stargazing sessions and school space education throughout the region. Meanwhile iconic Stonehenge Aotearoa is New Zealand's unique open-air astronomical observatory, built following ancient knowledge of the stone circles and adapted to the conditions of New Zealand. This open-air observatory is located on a rural property in Carterton.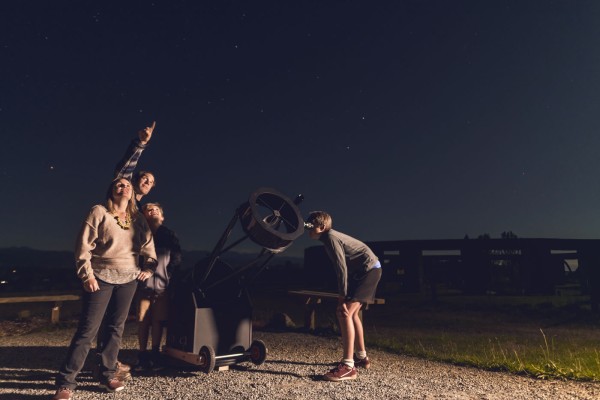 Destination Wairarapa General Manager, Anna Nielson, says the Dark Sky prospect adds a further element of diversity to the region's tourism mix, especially given its unique location to a major capital city.
"Astro tourism potential is quickly being uncovered, so it's a very exciting time to be exploring in this area. The recent World Space Week has given us the opportunity to showcase some of the many ways for our operators to be involved in the dark skies industry," shares Mrs Nielson.
"Wairarapa is a mecca for high quality food, wine and event experiences, and our Wellington audiences come here in droves. With the added incentive of Wairarapa Dark Sky Reserve, we've become even more appealing as a region, and this opens more doors for us not only with our Wellington weekenders, but with those business events and conferences based here and in the capital - who want to add something truly spectacular to their offering."
Some of the most popular ways to explore Wairarapa are through the region's fantastic events. Offering an annual calendar that spans all four seasons, the region is quickly becoming a year-round destination.
Spring blooms with gardens, walks and festivals that showcase the variety and colour of our diverse regional landscape. Carterton Daffodil Festival, Longbush Cottage Tulip Festival, the Wairarapa Garden Tour and the Wairarapa Walking Festival all serve to welcome in the warmer months.
Wine and food events like the nationally renowned Toast Martinborough (this year celebrating 30 years), Wairarapa Wines Harvest Festival and the Lighthouse Gin Party continue to elevate the region's reputation as a mecca for delicious and hand-crafted treats - a true foodies paradise. Outside of these events visitors can meet makers and experience the boutique wine village of Martinborough by bike. There are over 25 cellar doors, gin distilleries and olive groves surrounding this little colonial charmer and cycling-the-vines on the connecting quiet flat country roads is the things to do in Martinborough. Stopping for a relaxed lunch in one of the many vineyard restaurants by the vines is a delight.
Summer days are balanced with family events that bring an extra wow-factor to a Wairarapa experience. The Wairarapa Balloon Festival and Wings Over Wairarapa provide special opportunities to create those magical childhood memories that last a lifetime.
When you combine this with high calibre music events such as Wairarapa Music in the Country and Martinborough Music Festival, full weekends of international sport in Golden Shears and the New Zealand Cycle Classic, the depth and breadth of the region's event mix becomes especially impressive.
In winter, days are filled with new and growing Matariki celebrations, and the month-long Greytown Festival of Christmas, brings a touch of the European festive season to the streets of the boutique shopping village.
"Prior to Covid, the winter period had historically been a quieter time for the region, with less visitors filling up our summertime tourism hotspots. Now, with the addition of Greytown Festival of Christmas and regional Matariki celebrations, we've been able to turn the entire month of July around and firmly establish Wairarapa as an appealing winter destination," Mrs Nielson adds.
"This result really highlights that when you offer quality events and experiences in our region, people will come regardless of the weather, regardless of the season."