Our Chatham Island based member Go Wild Apiary is run by the multi-talented chef Kaai Silbery.

Kaai takes her visitors on tours to discover the wonders of Chatham islands especially its unique apiary sites. Her activities don't stop here, she is also committed to share the premium products of Chatham Islands with NZ and international chefs as well as inspiring the younger generation to become the next Kaitiaki of the island. She has also created an unique Honey product, became the 2021 winner of the prestigious global luxury lifestyle awards and is now on a mission to include Chatham Island in the next edition of the Guinness book of records.

What is Go Wild Apiary Tour about?

Kia ora my name is Kaai, my main vision with Go Wild Apiary Tours is to protect the Chatham islands bees because we are one of three places in the world that are disease-free, and my main goal is to make an impact and to protect our bees to continue to grow and flourish which will help the evolution and sustainability of our island. On the Chatham Islands we house 27% of New Zealand endangered species including the flora, fauna, bird life and marine life so we have a very special place here and it's up to us as the Kaitiaki to protect this environment. We are committed to maintaining our unique ecosystem and continue that legacy for the next generations to come. I like to think I can look forward to 1000 years in the future instead of five years or 10 years but casting your impacts in thousand years in the future and how it will continue to grow the economy for the island.

How long have you been running Apiary tours?
I've been running this company for four years, but I started off as a chef for 25 years. I was the head chef for hotel Chatham for the last nine years and I've just recently left last year too scaled up my business. My great uncle was the main beekeeper, (our bees first arrived in early 1800s from Europe and it was the black British bee) my great uncle and his wife Michelle Anderson were the Kaumatua beekeepers of the island in the 1960s to the 80s and they started to introduce the Italian honeybee from New Zealand. He did that for two reasons one to grow stronger DNA for our bees and to calm down the black British bees, that bee was big, fat and it chases you for miles.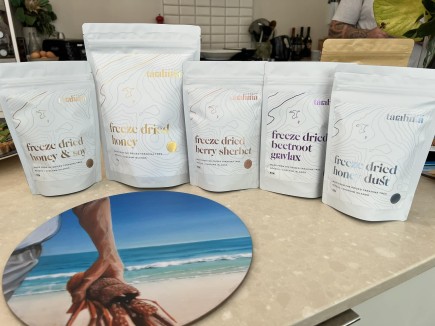 Probably because you are a chef, you have created some unique products like the "freeze-dried honey" how unique is the honey from Chatham Island?
It's literally unique as it's the first time in the market. There is a lot to learn about Chatham Island honey so this year we're working with MPI ( Ministry for Primary Industries) to test our honey. For the next 12 to 18 months, I'll send honey from all over the island so that we can create a database this will help establish profiles the different flavours, the different taste we can produce on the island. The other unique aspect is that we produce honey with the Tarahina tree, a prehistoric and endemic tree. My apiary is made-up of an old Tarahina forest. With my tours, I take my manuhiri trough the apiary and I talk about our unique flora and fauna and the importance of preserving it. If we can make an impact person as the old says goes "you tell 1, they tell 100" and that's my objective.

You are working with New Zealand and international chefs in New Zealand to ensure they know about the premium products from Chathams Islands, can you tell us more?
Yes, this idea generated with my uncle being the main beekeeper and me being a head chef and also a judge and a member of New Zealand chefs' association, I decided to go out and do judging cooking competition. So, part on an existing competition (Plate of Origins NZ Championship), I put a new category in the culinary championships. A team of two chefs had two hours to cook and prepare 4 identical entrees and identical mains using Chatham island products such as crayfish live, pawa , kina, blue cod and then the honey.

At the time my uncle gave me his honey in a recycled jar, and I thought we can't take a recycle jar to a prestigious chef competition so that's when I started and turn our honey into toffees, lozenges and then came the light bulb moment of creating freeze dried honey.

One of your focuses is to engage with your local community and especially younger generations, how do you involve them with your apiary activities?
I started a bee club and I started training the kids and bee keeping. We now have food tech classes at school, and we also get creative arts where each child gets to paint their own bee box and then they get to keep their box and take it home. I hope they will put their own bees one day. If I can inspire one child one day, they might be the future apiarist of the island! We have some exciting events like on the 20th of May (which is the world bee day) so that day we celebrated it on the island by creating the world's biggest bee cake. I wanted to enter the Guinness Book of records, but our funding didn't come in quick enough, but we kept working with the kid's where I got them to make their own eatable bees out of fondant and flowers. Next year, we are really hoping to enter the Guinness Book of records with our bee cake!
Highlight and must-do in Chatham Island for the new visitor?
Chatham Island is truly a place of paradise, and each corner of the island offers a different story. There is so much to do such as:
Exploring the oldest Basalt Columns in the world
Visit our apiary sites and endemic forests of Tarahina trees all over the island.
The impact of our our thangata whenua, the Moriori people
Our birdlife
Hiking in in the native bush among the oldest and biggest trees on the island
Fishing, seafood and hunting experiences
We are glad to have more visitors but currently we don't have the infra-structures to host thousands of visitors even though it's getting developed and overall, our priority remains to protect our local environment for us and our manuhiri.