Hidden amongst native bush near Coromandel town, Driving Creek is a tourist attraction, QEII conservation area, and a charitable organisation and also Qualmark's newest Gold member!

Driving Creek was founded by the famous ceramic artist and engineer Barry Brickell, the site has been a working pottery since 1974 and the narrow gauge railway, originally used to shift loads of clay to the pottery, first became a tourism business in 1990 with the granting of a railway license. The 24 hectare Driving Creek property is a Conversation Park and the beautiful regenerating kauri forest is home to many rare and special native species, including Coromandel brown kiwi.

INTERVIEW with Jesse Oppatt - Zipline Manager

What attractions does Driving Creek offer to visitors?
Railway Tours:
A 1 ¼ hour railway journey to EyeFull Tower, traveling on New Zealand's only mountain railway. The tour includes ten bridges and three tunnels.

Zipline Tours (trading as Coromandel Zipline Tours):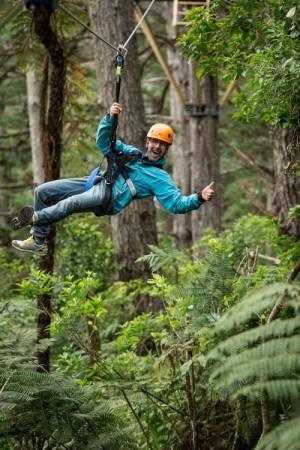 The newest attraction at Driving Creek, opened in 2019, is an 8-zipline canopy tour through the native forest. Tour guides tell the story of Driving Creek's transformation from a degraded site of kauri logging and gold mining to a thriving hand planted native forest.

Pottery classes and workshops:
Pottery is the essence of Driving Creek, visitors can experience a 1.5 hour wheel throwing pottery class with a professional potter. The pottery studio also offers regular workshops and courses, including 8 week pottery courses, an after-school course for children, clay making, and wood-firing workshops.

Your business is clearly committed to protect the environment you operate in. With a strong Conservation Park Management Plan in place, could you tell us more about it and what it means in terms of sustainable practices?
Driving Creek continues to deliver Barry Brickell's ecological vision and legacy of seamless transitions between art, engineering and conservation. The dedicated team of conservation staff maintain a network of over 200 pest animal traps across the 24ha property, and neighbouring private and DOC land, to protect native wildlife from introduced predators.

The Conservation Park is a true example of how to restore a thriving native ecosystem where there was once degraded and bare farmland. The conservation story is an integral part of Driving Creek, visitors can enjoy a free (self guided) tour of the Nature Walk and fenced predator-proof wildlife sanctuary to see native birds, geckos, cave and tree wētā, and explore the regenerating native forest. Visitors also learn about the impact of Kauri dieback and how we can protect these incredible native trees.

What are your new attractions with either a strong environmental license or story telling focus?
Coromandel Zipline Tours creates a connection between visitors and the natural environment. Immersed in the native forest, visitors learn the stories of how past kauri logging and gold mining impacted and severely changed Coromandel's natural environment, and how Barry Brickell returned the land to a thriving native forest. Since the late 1970s, 27,000 native trees (including 9000 kauri) have been planted at Driving Creek, and this story continues as current staff manage the threat of pest animals and weeds creating a safe space for kiwi and other native species.

Proposed new attractions still in the pipeline include:
An authentic and unique Hot Tub complex immersed in native forest and accessed by crossing an historic railway bridge.
An educational tour of Driving Creek's pottery which includes Barry's personal collection of works and New Zealand's heritage pottery collection.
A gold mining experience which would include visiting historic gold mines by railcar, learning about the gold mining process, Coromandel's gold mining heritage, how it created the local town, and impacted the natural environment.
Can you tell us more about your Residency program and how closely you work with your community?
Collaborations with community, nearby landowners and conservation groups are a key part of our strategy to ensure we can protect not only the Driving Creek forest but the wider area where we know our kiwi roam.

The residency programme was first created by renown potter Helen Mason in the 1990s and was revitalised in 2019. Holding true to Barry's legacy and values, the residency programme is not a service or education you can buy. There are no qualifications or awards available. We are actively trying to avoid formality. Driving Creek is a unique opportunity for self-directed creative freedom.

Since 2019 Driving Creek has had 100 resident artists, two resident artist groups, and fired approximately 90 electric kilns and 19 wood kilns. The residents form part of the buzzing artistic community at Driving Creek and freedom of creativity leads to new and exciting works and collaborations.