Stardome Observatory and Planetarium is based in the heart of the Auckland region, located on the One Tree Hill Domain. They are the first place in Aotearoa to offer a comprehensive star map with over 100 Māori names of whetū (stars), planets (arorangi) and constellations. Providing "astronomical" services to explore the stars after some recent renovations, we asked Marketing & Communications Manager Gabrielle Lynam-Smith, some questions on what makes the business "shine".
What is your mission and how does this come to life in daily operations?
Our mission is to be a trusted centre for sharing astronomy and mātauranga. The kaupapa of our galleries is to reconnect Stardome's visitors to the cosmos, and is expressed by the whakatauki: Tātai whetū ki te rangi, tātai tāngata ki te whenua; A cluster of stars above, a gathering of people below.
Following your renovations earlier this year, are there any new experiences for customers?
The last three years with Covid lockdowns and then floods in early 2023 were tough, but it didn't derail our goal of transformation. After six months of closure, it was our enormous pleasure to reveal our new and improved galleries which place mātauranga Māori alongside western scientific tradition. This represents our most significant upgrade in more than 20 years.
The new galleries are bilingual and divided into five main sections – the solar system; stars; celestial navigation; meteors, asteroids and comets; and astronomical technologies. Each section aims to enhance visitors' understanding of what lies beyond Earth and how we in Aotearoa New Zealand are connected to the night sky.
We have introduced regular weekly Māori astronomy shows, and of course celebrating Matariki and sharing what it means is the highlight of our year. For the music fans, we also have a limited 12-month licence to screen the Pink Floyd 50th Anniversary show – Dark Side of the Moon. The new visuals are stunning, and our state-of-the-art sound system makes it an unmissable experience.
What would you describe as your ingredient for success?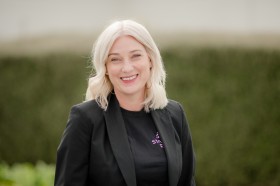 When you come to Stardome you will leave knowing that you could only have had this experience in Aotearoa New Zealand. There are many planetariums around the world, and we share some of the same shows. But what makes Stardome stand out is the sharing of knowledge of the skies above us in the pacific. We enhance visitors' understanding of what lies beyond Earth and how we in Aotearoa New Zealand are connected to the night sky.
"We're situating Māori knowledge about space in its rightful place alongside existing scientific understanding, so that our manuhiri, or visitors, can learn the richness and relevance of both traditions. All of us should be able to look up at the night sky in Aotearoa and know that we're looking at the constellation called Māhutonga, as well as the Southern Cross" says our CEO, Victoria Travers.
Tell us about your "Adopt a Star" initiative – have you had any special stories from customers?
Adopt a Star packages are sometimes given as a memorial gift, and it's very special to be able to offer something that keeps a memory alive.
My colleague John Rowe, Astronomy Educator and 'Adopt a Star' manager, shares the appreciation: "Recently, I got a message from a customer who wanted to give me a big hug. As Carl Sagan famously once said, 'The cosmos is within us. We are made of star stuff'. So, a symbolic adoption of a star is a beautiful way of being able to keep that person with us."
What positive changes would you like to see in the tourism industry within the next decade?
Moving towards carbon zero, or at least carbon reduction, is essential. Aotearoa New Zealand is an innovative and ecologically minded place, so we are optimistic that the industry can continue to improve. Overseas visitors now expect a high level of environmental awareness, so it's essential that we as an industry are leaders in mitigating climate change.
Regarding astrotourism (travel to areas in order to view the night sky), our part of the world is perfect for it! Recent innovation in light pollution that doesn't compromise safety or security has brought great benefits to stargazers, while also reducing its ecological impact. Plus, the benefits of being outside at peace in nature, are immense. The more remote the area, the better the view!
How does your business actively practice sustainability?
Included in our new gallery is content concerning our atmosphere and climate as a planetary system. The content includes discussion on climate change and steps visitors can take to mitigate their impact.
We couldn't be prouder to have achieved a huge milestone in January 2023 – receiving 'net carbonzero' certification from Toitū Envirocare. We maintain our waste minimisation practices using the principles of 'reduce, reuse, recycle', in that order of priority. This has also become a consideration in our procurement practices and led to a change in suppliers of drinks and ice creams to Aotearoa-based businesses that prioritise minimal waste and carbon reduction.
And finally, are you doing anything special for World Space Week?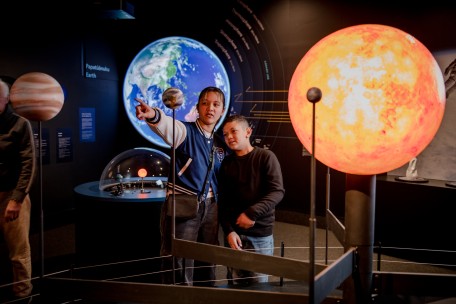 Every week is Space Week at Stardome! We've got all sorts of things on – our sci-fi movie series continues; there's robotic claw making sessions; new shows 'Atlas of a Changing Earth' and 'Birth of Planet Earth'; plus, our newly renovated galleries that we hope will attract anybody who's got a love of space.
Interested in paying the Stardome Observatory & Planetarium a visit? Check out their website here.