The Kaikōura-based South Pacific Helicopters team has faced many challenges since their 2016 inception. From the Kaikōura earthquake that same year, to battling through the COVID-19 border and business closures, the young family-owned operation overcame each hurdle together. They provide domestic and international visitors alike with unforgettable, unique flight experiences above coastal and inland Kaikōura.

Despite those many challenges, South Pacific Helicopters (SPH) has managed to establish itself well within the Kaikōura tourism space, particularly in the luxury market. They continue to expand their one-of-a-kind indulgent experiences and exclusively collaborate with other local operators to create hose special experiences their customers are after whilst staying firm on ticket prices all the while. This in turn enables the team to give back to their community and support the beautiful environment and surrounds of Kaikōura.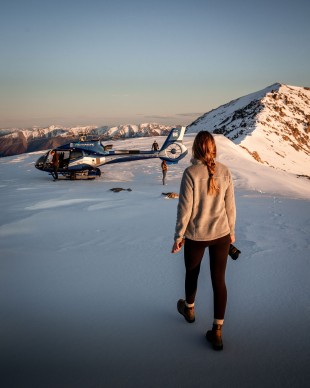 The first step that SPH took was to reduce their fuel consumption – no mean feat for a helicopter company. Owners Daniel and Monique Stevenson invested in purchasing a Eurocopter 120 Airbus and a Eurocopter 130. They're well-known for their sleek European design and comfort, but more importantly for their use of cutting-edge technology, resulting in exceptionally low fuel consumption and reduced noise. Striving to maintain green practices in everyday operations sometimes takes those larger investments.

Beyond keeping a sustainably curated fleet of helicopters, SPH also supports initiatives like Uplift in Kind, Trees for Travellers, a local recycling programme, and other regional charities and non-profit organisations to hold true to their promise to protect Kaikōura and Aotearoa.

The SPH team is also a humble one; they understand that they won't be able to change the world on their own. Subsequently, they opt to partner with likeminded local operators. One of these partnerships is with Hapuku Kitchen. By only using seasonal, local produce, Hapuku's Kitchen is re-educating their guests on the abundant larder nature has to offer together and celebrates it together through a culinary experience that reflects Kaikōura's land and sea.

One of SPH's most exclusive products is the Heli-Gin Meet Mt Fyffe Distillery. Not only does one of the award-winning gins share a name with the local Shearwater bird (a lovely homage to our environment), owner Justine Schroder also donates to the Kaikōura Wildlife Centre Trust to help look after sick and injured seabirds just like the popular gin's namesake, the Shearwater bird.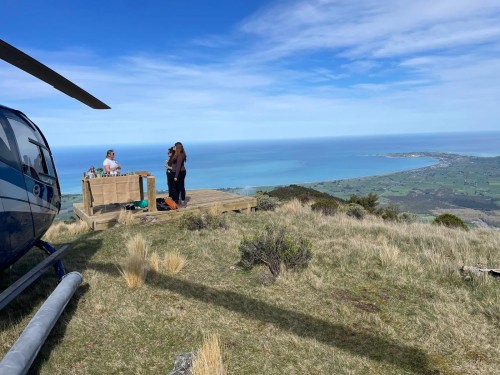 But it's the Whales and Cray tour that is perhaps the most environmentally-focused experience available. An integral part of this tour is the collaboration between SPH and Dr Krista van der Linde, a world-renowned marine mammal biologist. Working as the Marine Species Programme Manager at WWF in Kaikōura, and founding Moana Mark, Krista is the expert on all -things local marine wildlife in Kaikōura's unique location. She joins SPH's customers on their helicopter tour to educate them on the marine wildlife they see and gives them the opportunity to ask questions. This is part of South Pacific Helicopters' giving back initiative - $50 of Whales and Cray Tails tours sold is donated to Moana Mark.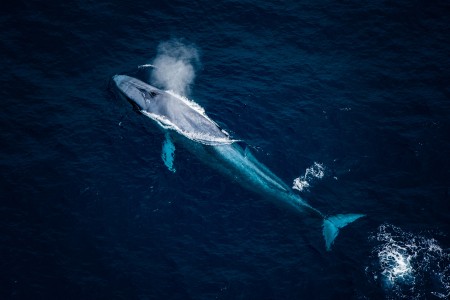 Moana Mark is the answer to the growing calls to rebuild a more sustainable tourism system in Aotearoa New Zealand. But it takes those who benefit from New Zealand's unique marine environment to partner up and take action to conserve the ocean environment. Businesses can become Moana Mark accredited to demonstrate their support of marine science and to contribute to the coming environmental changes that are needed to protect our wildlife. Donations towards Moana Mark and through the partnerships are used for scholarships to study marine species populations. Currently, Moana Mark's research projects are focused on various marine species to determine aspects of their ecology, assess how threatened they are and determining what we can do to improve their management and protection.

SPH's overarching success can be attributed to its company culture of working hard, and working even harder to give back. Collaboration with like-minded businesses in the area allows them to combine their love and care for Kaikōura with tourism.