Life long, passionate conservationists, Gordon and Janine Thompson have been developing Earthlore since 2006, transforming their ten-acre lifestyle block into a wildlife haven to educate and inspire people to care for the environment.

Moving to The Catlins in 2006 Gordon and Janine had planned to develop the block to grow organic produce for farmers markets and offer guest accommodation in Gypsy caravans. A prime location for its soil quality, but the lack of sun and the distance from a market proved this first plan to be unviable.

The Thompson's made the decision to remain true to their passions to develop the land as a 'Food Forest' and evolved their revegetation efforts to focus on tourism and sharing what they have learned.



For the first ten years Gordon worked as the Owaka postie, doing the postal run in the morning and opening Earthlore in the afternoon. Gordon, a keen insect enthusiast, is also known as Inspector Insector. A character that plays an important part of the Earthlore experience taking school and preschool groups on a journey to learn about the fascinating world of insects.

Janine worked at the local 4 Square and to date has planted in excess of 2,000 plants on the property, many of which she has propagated herself, including some rare species that can be found on the New Zealand endangered plant list. This allowed them to build the business slowly, for their revegetation efforts to flourish, and bought back an abundance of insects and birdlife through specifically created corridors critical to the maintenance of the ecology of the region.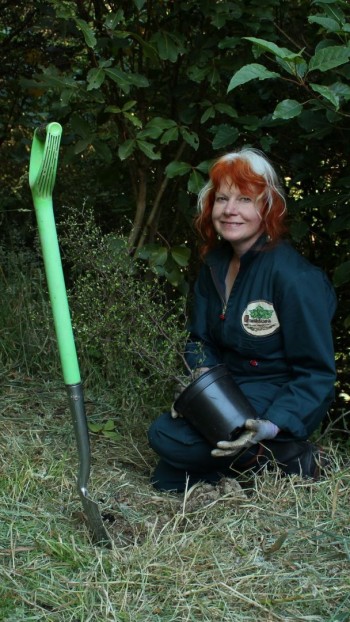 Earthlore sits 5 kilometres outside of Owaka township on the road to Jacks Bay with visitor numbers reliant on educational group trips from schools, and the signage at the gate to 'walk-in' FIT travellers. After 10 years the business had finally started to make in-roads with the international market and Gordon and Janine were looking at their best year ever. Their range of on-site activities were attracting attention from overseas markets with the appeal of experiencing a deeper connection with nature while heightening their understanding of our natural world, but that was before COVID.

Gordon and Janine were already thinking to change direction to pivot the business to more FIT travellers interested in conservation and regenerative travel and had sought advice through the Regional Business Partner Network's Digital Capability fund in 2020, at that time the business had come to a standstill.

"We had heard about the Digital Capability Programme through our local Regional Tourism Organisations (RTO) Clutha Development, and Great South had sent us information on what the programme involved. Before we began, we had already made the decision to rebrand and expand the business, so it was a good time to connect with another business to help us understand more about changing direction and how best to achieve our goals", says Janine.

"We started on creating a strategy, and we started with what we knew. Our domestic school programmes and our international visitors were gone. Our social media presence was limited to one platform but even that audience was quite small. We wanted to understand more about who we could target domestically and how we could find and speak to them about where we are and why they should visit us", she says.

In October that year The Thompsons registered for the Digital Capability programme managed by Qualmark and Tourism New Zealand ready to further develop their strategy to include more practical support to understand more about their digital ecosystem: "Marketing has always been our weak point because we have always been focused on the gardens. Until now it's been the time factor that's held us back, the photos needed, the time needed to be set aside for scheduling, but we made the decision to switch to tourism so we could share what we'd learned - so Earthlore began another evolution, developing our online presence", says Gordon.

"Qualmark connected us with Gina Paladini from Tomahawk who after an initial consultation to understand more about who we are and what we do, asked us one question that really made us think about why we do what we do, and why we want to keep doing it. If we were to start all over again, starting from scratch, what would we do differently? Our mission has always been to get people back to nature while keeping wildlife safe. It wasn't until we thought more about it that there was an opportunity for us to develop products that allowed us to do this".

"We only had on site activities and we didn't want to just show people the sites; rather we wanted to give people the opportunity to help protect the area so they can leave the Catlins a better place because of their visit, we wanted to develop tours that would give back to nature", he says.

After a website audit with Tomahawk, Marketing Director Gina Paladini deemed a new site would be critical to achieve their goals: "The audit told us that there was no booking engine, website traffic close to none and the bounce rate on the site high. Gordon and Janine were clear with us from day one about their goals that they wanted to provide a more professional online presence. We worked with them to create a range of two-hour, one day and three-day tour packages, introduced them to a new booking engine in line with what they wanted to achieve and provided a Google friendly website that emotively and effectively shares the wonder of the good work and experiences they offer", says Gina.

The assistance by Tomahawk has proved immensely valuable, enabling Earthlore to create a website with effective SEO and an in-built booking system, a content management system which is easy to use with personalised training from the team at Tomahawk, and developing an effective marketing strategy which has already increased their online presence.

"They received their first instant booking within a week, and website visits have increased 120 per cent with the bounce rate dropping significantly", says Gina.

The results for Earthlore have better positioned them for where they want to be. Both in market and within industry with Gordon and Janine more confident about 'taking pictures that wow' for their Instagram page and backed with a new range of products that continue their work to maintain habitats for wildlife unique to The Catlins, while giving visitors an experience to see out-of-the-way places as an Earthlore Wildlife Guardian.

"Our online presence is so much stronger and becoming a member of Qualmark, which came about through Gina seeing an alignment between what we do and what Qualmark does and has strengthened our relationship with both Clutha and the Southland RTOs. In fact, we will be featured in the New Zealand Herald Travel page as a direct result of Libby from Clutha Development putting our business forward", she says.

"I don't believe we would have got as far as we have, had we not participated in the Qualmark Digital Capability programme. The key outcomes from our relationship to date are numerous. We now have a much clearer understanding of how to market our business online; we have gained Qualmark certification and with Tomahawks help, developed several new products which support the continuity of our business while ensuring that we remain true to our reason to be. The programme has supported Earthlore to morph into the diverse business it has become today and when the borders open up again will give us a distinct advantage in the marketplace", says Janine.